Silhouette Shades Fort Lauderdale
Silhouette Shades | The Best for Light Control, Privacy & Functionality
Silhouette shades are one of the best shades to create the perfect environment at your residential & commercial premises. Whether you're looking to add something of style & elegance, or something that adds privacy & functionality, Silhouette shades are the perfect option for your home. Now enjoy the outside view with these shade types and at the same time, have complete privacy.
These shades are made of two sheer fabrics that are connected with adjustable S-shaped vanes floating between the fabrics. The vanes can be opened and closed to adjust the amount of light and control the privacy you want. Silhouette shades are available in a variety of colors & fabrics at Top Notch Custom Blinds. Feel free to go through our selection and pick the right one.
Different Operating Systems for Silhouette Shades
Why Choose Silhouette Shades for Your Fort Lauderdale Homes?
Silhouette shades are a wonderful option for your windows if you're more of a private life person & want to have the perfect home ambiance. They are quite excellent in blocking the harmful UV light of the sun. If you're living in a sunny part of Florida, then silhouette shades are the best window treatment option you can have to keep your home well protected from the sun.
Top Notch Custom Blinds
Ultra UV Protection

One of the best features of silhouette shades is that they provide excellent protection against harmful UV rays. The sun can damage your furniture & flooring, but with silhouette shades, you can keep your home interiors well-protected.
Top Notch Custom Blinds
Privacy
Another excellent feature of silhouette shades is that they provide privacy. If you have nosy neighbors or live on a busy street, then silhouette shades can be the perfect option to maintain your privacy.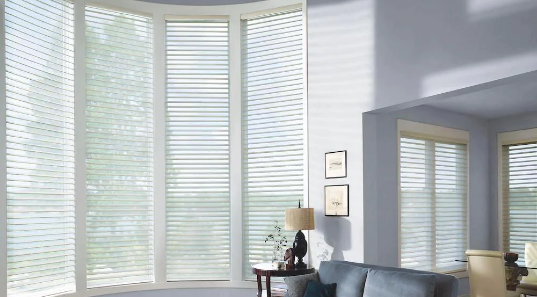 Top Notch Custom Blinds
Light Control
Silhouette shades also allow you to adjust the light coming into your room. You can open and close the vanes to control the amount of light you want in your room.
Top Notch Custom Blinds
Improved Home Ambiance
Silhouette shades can also help you create the perfect ambiance in your home. They are available in a variety of colors and fabrics, so you can pick the one that best suits your home décor.
We Provide Silhouette Shades in Different Designs
Whether you want them to be installed in arches, angles, or skylights, we can do it for you. At Top Notch Custom Blinds, we provide a wide range of silhouette shades in different designs to our clients in Fort Lauderdale, Florida. Our teams can also provide custom cuts in variable geometric shapes such as circles, ovals, trapezoids, and hexagons. Being a family-owned business providing Silhouette shades for more than a decade, our experienced team can provide you the best quality shades within your budget that will perfectly match your home décor.