What Are the Best Brands for Window Treatment?
Are you a resident of Fort Lauderdale Florida & finding the best window aesthetics for a home that perfectly matches your decor? What you really want is a window blind made of top-quality material. Although blinds are durable and long-lasting, it's particularly difficult to narrow down your options especially when there are plenty of brands selling the same thing. Here's a web page that we have particularly crafted to help you narrow down your research and make the most informed decision, especially when it comes to window blinds.
The window treatments market is growing in popularity and with the market becoming more competitive, it becomes essential that we help you choose the right brand for window blinds so you can have a happier & relaxing home for yourself & loved ones.
Norman & Hunter Douglas | The Perfect Comfort Options in Faux Wood
Faux woods are a wonderful option for giving your home or workspace a woody essence. They are not only great in adding security to your property, but also provide you with the perfect comfort and relief from the scorching heat of the sun.
When choosing Faux wood, you want to make sure you get SmartPrivacy® from Norman or Everwood® by Hunter Douglas as they are wonderful options when it comes to window treatments. They protect your home from moisture development and therefore, they are a great choice for rainy & snowy seasons.
Faux blinds also have tighter closures which makes them a great option to add extra shade during sunny mid-days. You can easily maintain them by cleaning the faux wood using a microfiber cloth by applying mild detergent for more effective cleaning.
Parkland & Normandy | To Fulfill Your Cravings for Real Wood
There are those times when you settle for artificial counterparts, and then there are times when you want the real deal. If you are not up for Faux wood and would like to add real wood window blinds to match your exact home decor, you can always go for Parkland® or Normandy® Wood Blinds.
The way these brands craft wood blinds are impeccable as these blinds are purely made out of wood and quite an excellent option for people looking to put up something on large windows. These brands offer wood blinds in different varieties including basswood, cherry & oak wood. The blind solutions they offer are high quality & eco-friendly. They are also visually appealing & made up of real hardwood.
When you plan on cleaning them,  you can use a vacuum with a soft-bristled attachment or a feather duster to keep the dust off. You can also use a mixture of water and vinegar to wipe down the blinds, and this will also work great in getting rid of any sticky residues.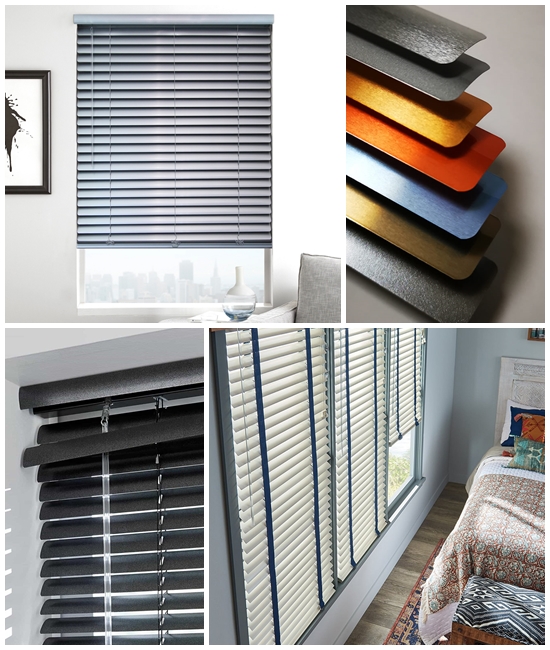 Hunter Douglas or Norman's CityLights™ | For You to Go Complete Aluminum
If wood or faux wood isn't just your thing, aluminum is a great alternative. Aluminum is lightweight & easy to maintain which works remarkably well in a variety of household settings.
They are also affordable. If you're looking for aluminum blinds, you can go for Modern Precious Metals by Hunter Douglas or Norman's City Lights as they are two of the most reliable brands when it comes to aluminum blinds.
Aluminum blinds are available in a wide range of colors & patterns. If you live in a more tropical climate, or you just want to give some sharp edges to your windows, aluminum blinds are the perfect option for you.
Somner® and Vertical Solutions® | Window Blinds to Last for Many Years
In the past, there were several options available in the category of the vertical blind which was not up to quality. The slats were weak, and the overall look was quite tacky, but this is not the case anymore.
You can now find high-quality vertical blinds that can last for years. Famous brands like Somner® and Vertical Solutions® provide you with long-lasting durability and with a touch of simple maintenance, you can easily increase their longevity.
Maintenance is just as easy as any other blinds. For the fabric material of these blinds, you can simply use a vacuum machine to remove dust particles. Just make sure that you don't make them wet as they are susceptible to discoloration on prolonged moisture exposure.
Top Notch Custom Blinds | The Best Place to Buy Aluminum Blinds in Fort Lauderdale FL
Installing Aluminum Blinds makes your life easier. It also adds value to your homes & offices. These shades are the perfect option to add convenience to your home. They offer the perfect balance when it comes to effective lighting at home or elsewhere. You can allow enough natural light so it can flow into your premises as per choice. Are you in search of the best-Aluminum Blinds for your residence? Then look no further than Top Notch Custom Blinds.